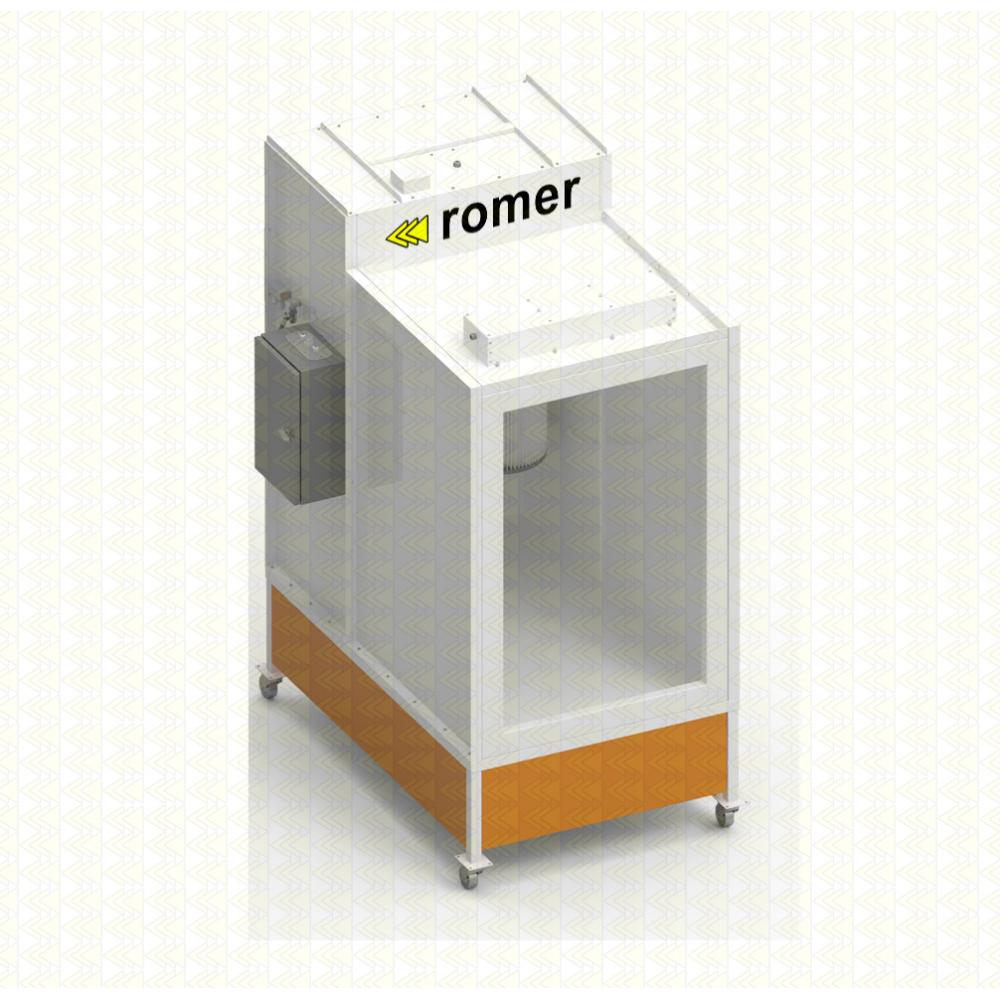 Więcej na temat Kabin znajdziesz tutaj
Aluminiowe wentylatory TwinFan™

W Kabinach firmy ROMER pracują wentylatory aluminiowe, które są bezpieczne, nie powodują iskry w razie otarcia się o elementy metalowe - co w przypadku wentylatora stalowego grozi wybuchem. Dzięki ich wadze oszczędzają energię i pobierają niewielkie ilości prądu. Są przy tym bardzo ciche, pracuja na poziomie 74-79dB.
Silnik jest schowany w kabinie, przez co kabina jest niższa.

-

Niska głośność

Wentylatory aluminiowe są bardzo ciche, pracuja na poziomie 74-79dB - To niedużo.
Przy standardowej konstrukcji kabiny ciężko nawet rozmawiać.

-

Szczelny montaż filtrów

Dzięki zastosowaniu kołnierzy mocujących montaż i demontaż filtra staje się banalnie prosty. Zastosowana śruba dociągająca uszczelkę poprawia szczelność filtra (w porównaniu z filtrem bagnetowym) przez co zwiększa się moc ciągu Kabiny, oraz poprawia sie jakość filtracji.

-

System czyszczenia filtra ROMERJet™

W Kabinach firmy ROMER montowane są profesjonalne zbiorniki, które odpowiedzialne są za gromadzenie powietrza potrzebnego do oczyszczenia filtra. Powietrze pod ciśnieniem zwalniane jest ze zbiornika w ułamek sekundy po czym przechodząc przez dyszę ROMER JET™ rozpręża się w filtrze z dużą prędkością, wydostając się przez mikrootwory w filtrze oczyszcza go, a proszek opada do Kabiny.
Nasz system ROMER JET™ jest opatentowany, zapewnia on czyszczenie całego filtra od samej góry do dołu, zapewnia to niepowtarzalny efekt czyszczenia, nieosiągalny w przeszłości (przy stosowaniu zwykłej zwężki typu Jet-Venturi).

-

Niskie zużycie prądu

Dzięki zastosowaniu lekkich stopów stali w procesie produkcji naszych wirników stały się one niesłychanie lekkie. Wentylatory do obrotu takim wirnikiem potrzebują niewielkie ilości prądu, oszczędzając tym samym energię.

-

Długa żywotność filtrów

Grubość materiału z którego jest zrobiony nasz filtr to 260g/m2 a powierzchnia filtracji (H900) to 15m2. Dla porównania stosowanym standardem dla H900 jest 160g/m2 przy 7,5m2.
To jest standard stosowany w najdroższych liniach automatycznych przeznaczonych do przerzucania ton farby.
Występuje jeszcze tańszy rodzaj filtra, zawierający w składzie celulozę (papier) zamiast poliestru.

-

Automatyczne czyszczenie filtrów

Kabiny firmy ROMER są wyposażone w elektroniczny system automatycznego czyszczenia filtrów. Kabina posiada zakres regulacji częstotliwości czyszczenia, czas wystrzału, każdy filtr czyszczony jest osobno, filtry czyścić można również manualnie za pomocą przycisków.
Z doświadczenia wiemy, że ciężko od operatora wyegzekwować czyszczenie filtrów. Dzięki temu systemowi operator już nie będzie musiał się nad tym zastanawiać.