Thick insulation 160-400mm

High efficiency heat-exchangers


Explosion venting latches

Good quality burners
Low maintenance cost

Forced air circulation with booth walls and floor






Automatic controls



| | | | | | | |
| --- | --- | --- | --- | --- | --- | --- |
| Model | Worksize dimensions | External dimensions | Burners amount | Heating power | Voltage | Electric power |
| SGS-30O | W1200 H1800 D3000 | W1720 H2710 D3300 | 1 pcs. | 80kW | 380V | 1,1kW |
| SGS-45O | W1200 H1800 D4000 | W1720 H2710 D4300 | 1 pcs. | 80kW | 380V | 1,1kW |
| SGS-60O | W1200 H1800 D6000 | W1720 H2710 D6300 | 2 pcs. | 160kW | 380V | 2,2kW |
| SGS-90O | W1200 H1800 D8000 | W1720 H2710 D8300 | 2 pcs. | 160kW | 380V | 2,2kW |
| SGS-120O | W1200 H1800 D10000 | W1720 H2710 D10300 | 3 pcs. | 240kW | 380V | 3,3kW |
| SGS-140O | W1500 H2500 D6000 | W1720 H2710 D6300 | 3 pcs. | 240kW | 380V | 3,3kW |
| SGS-160O | W2300 H2500 D10000 | W1720 H2710 D10300 | 5 pcs. | 400kW | 380V | 5,5kW |
Innovaties
Gebruiksgemak waardoor het werk aangenaam wordt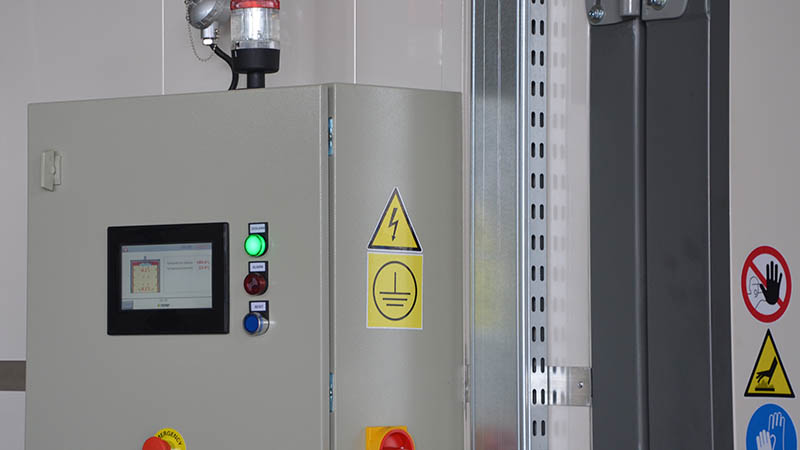 7" Panel dotykowy
Duży kolorowy dotykowy panel wygląda estetycznie i użytkuje sie wygodnie i intuicyjnie. Ustawisz na nim wszystkie ważne parametry.
Pamięć 20 programów po 10 zdarzeń
Istnieje możliwość zapisania do 20 programów i uaktywnienia nawet do 10 kolejnych zdarzeń czasowo-temperaturowych układających się w krzywą grzania.
Jest to szczególnie potrzebne przy bardziej wymagających procesach.
Informacja o konsumpcji gazu / oleju
Konsumpcja jest obliczana na podstawie ustawień palnika. Ta funkcja pozwoli Ci oszacować koszty danego cyklu, planować zużycie i sprawdzać personel.
Dwukanałowy rejestrator parametrów cyklu USB
Każdy z piecy wyposażony jest w rejestrator zapisujący wszelkie parametry wypalania w tym dwa kanały temperaturowe - jak w samolotowej czarnej skrzynce, na Pendrive'ie.

System umożliwia również analizę zestawień miesięcznych/dobowych w tym konsumpcji mediów i wydajności. Każdy start grzania, otworzenie drzwi, jest do odtworzenia, kilka lat do tyłu.

Taka dedykowana opcja nie jest oferowana przez żadnego producenta. Jest to system opracowany od podstaw przez naszych programistów.




Nowość


Opracowane przez profesjonalistów, dla profesjonalistów
Automatyczny komin oddymiający
Komin można programować aby otworzył się parę minut przed końcem wypalania, w celu oddymienia komory.
Można go zdalnie sterować z panela, nie trzeba tego robić mechanicznie jak w większości konstrukcji.
Prognoza minutowa do końca
Cykl wystartował, za ile sie skończy ? obliczając dynamikę grzania, policzymy to i na wyświetlaczu pokażemy ile jeszcze to potrwa.
Drzwi samozatrzaskujące
Aby je otworzyć wystarczy pociągnąć za drzwi. Zamek posiada regulację docisku drzwi, aby je zamknąć wystarczy je pchnąć, zamek złapie drzwi i je automatycznie dociągnie.
Okap ciepła opcja
W celu zminimalizowania efektu ogrzewania hali podczas otwierania drzwi, nad drzwiami montowany jest okap odprowadzający część ciepła do innych miejsc.
System MTS

Unique systems to ensure the highest quality of burning




System MTS




What is MTS system?

The MTS is designed to provide realistic reading of the temperature of the oven.
The standard measurement is based on a temperature measurement which is often wrong.
MTS is a system of multiple sensors localized in the extreme places of the chamber.



The polymerization of the paint at 180 degrees Celsius
ROMER

MTS (Two or more sensors)

Inny

Bez MTS (One sensor)
Multi zone heat



What is the Multi zone heat system?

The multi-zone heating system provides a unique firing quality.


Each conventional furnace has only one heating zone and only one temperature measurement!


The multi zone heat system supports up to 8 independent heating zones in one furnace.
Each heating zone has up to 3 Temperature sensors

When there are differences in temperature between zones, they are automatically aligned!

The system allows you to tackle the problem when the elements come to the furnace in different thicknesses.


Polymerization of paint in 180 degrees Celsius
| | |
| --- | --- |
| ROMER Multi Zone Heat (4 zones, 12 sensors) | Ordinary stove (1 zone, 1 sensor) |
| | |
Besparelse
Meet ROMER iCure

ROMER iCure is a computer program that allows full control of employees even a few years back - allows you to play any of the cycles from any day. iCure records each cycle individually, all inputs and outputs, all process parameters.


The recording capacity is practically endless, it is possible to preserve the history of all cycles since the purchase of the furnace..



Monthly Performance Reports
You no longer have to wonder how much oil or gas is consuming your furnace, nothing will escape your mind.

iCure allows you to view the amount of burns, consumption and regularity of burns from any time period

The system checks if the details have been kept at a suitable temperature for a period of time, if the cycle is interrupted, it is visible in the progress bar.

You will always know how effective is your powder coating plant.
ECO mode
Lösungen, mit denen Sie wirklich Geld sparen können

energiebesparende modus
Een uniek systeem verlaagt het brandstofverbruik door de branderinstellingen automatisch te optimaliseren. Zodra de ingestelde temperatuur is bereikt, schakelt de kachel over naar de ECO-modus, wat de rookgastemperatuur regelt en geld bespaart.
Tot 20% minder brandstofverbruik
Standaard wisselaars werken bij rookgastemperaturen boven de330 graden. In ons ontwerp is dat standaard270 graden. In combinatie met de ECO-modus kan tot20% warmte worden bespaard.
Heat exchanger

Doordat onze apparaten volledig elektronisch worden aangestuurd, kunnen we de procesparameters zeer grondig analyseren.

SysteemRomer Connect -we kunnen via internet verbinding maken met het apparaat, wat de ervaring nog sneller en goedkoper maakt.

Potrzebujesz zmiany w systemie sterowania?

Chciałbyś zrobić update oprogramowania?
Heeft u pech en weet u niet wat er aan de hand is?


deze en andere problemenlosvoor u op.
SysteemRomer Connect -maakt verbinding met onze service via internet vanaf uw mobiele telefoon of het ethernet / bluetooth-netwerk.


Standaardoplossingen brengen hoge kosten met zich meeen we willen niet dat u ze draagt.Daarom leveren we ons systeemzonder terugkerende kosten!
Construction
Construction of which we are proud



Stable welded construction
The entire frame including the internal structure is welded, so there are no heat bridges. The outer sheets are entirely painted with polyester powder paint.

The ceiling made of stainless steel
In places where the higher temperature is present plating was stainless steel made to guarantee long life.

Heat-resistant exchanger
Heat exchangers designed by heating specialists from the most durable heat-resistant materials, exceed the vitality of everyone heat exchanger made of acid-proof steel.
.
Dedicated burners
Produced special ROMER burners. Assembled on the best western subassemblies, Dedicated to our heat exchangers. They have, among other things, enhanced controls that interact with the user interface. They have an extended barrel that allows us to do so thick insulation.
Air-cooled rotors
Each of the circulating fans has its own additional system Air-cooled, which prevents overheating of the motors.
Burners equipped with dust filters

Burners in standard are equipped with HEPA anti-dust filters to allow them to work even under the worst conditions of dusting.
Minimization of thermal bridges
The frame construction is fully welded. We do not put it out of the part, which prevents the formation of thermal bridges. Insulation is specially laid out, which prevents it from being unsealed.
Silicone seals
Doors, fans, all joints are additionally sealed with a profiled seal resistant to 300 degrees Celsius to save the heat produced.
Several layers of insulation
For the production we use rock wool and glass to obtain better parameters.
Isolation on the ceiling
Thickness of insulation on the ceiling is even 460mm.
Insulation on the walls
Thickness of insulation on the walls is up to 240mm.
Safety

With us you can feel safe
Explosion-proof closures
Assembly of the lock allows the furnace to be opened from the inside, in case the employee is locked in the chamber. This solution improves door tightness, comfortable work and fits in the EX standard - in the event of an explosion, the door will open automatically.
Self diagnosis
The self-diagnosis system, analyzes the correct operation of each component to prevent failures.
Emergency resumption of cycle after power loss
Unexpectedly the power was interrupted. What happens if you do not have this system, and you do not remember at what stage was the cycle?
Whole batch to improve.
Analysis of the correctness of the connection
If the burner plug loosens, the sensors will be swapped out, you can rest assured that you will not have to think about it.
Explosion-proof expansion flap
In the event of a fuel explosion in the combustion chamber, an additional adjustable flap will be provided which will then open to prevent explosion.
Overheating sensor
An additional sensor activates when the upper limit is exceeded - PLC disconnecting the heating elements to prevent damage to the components.
Securing direction of rotation
If we change the order of phases on the power supply, we have a security that it verifies.
Photos
You can feel safe with us
| | |
| --- | --- |
| Explosion-proof closures The installation of the lock allows you to open the oven from the inside, in case the worker is locked in the chamber. Such a solution improves the tightness of the door, comfort of work and complies with the standards of EX stoves - in the event of an explosion, the door will open automatically. | |
Autodiagnozis
Self diagnosis Self-diagnosis system, analyzes the correct operation of each of the components, preventing failures.
Emergency resumption of the cycle after power loss
You ran out of electricity. What happens if you do not have this system, and do not remember at what stage was the cycle?
The whole batch to improve.
Protection of directions of rotation
If you change the order of phases on the power supply, we have a security device that verifies it.
Overheating sensor
The additional sensor is activated after exceeding the upper limit temperature by disconnecting the heating elements, preventing damage to the elements.
Analysis of the correctness of connections
If you loosen a plug in the torch, the sensors will be swapped, you can be sure that you will not have to think about it.
Explosion proof expansion flap
In the case of detonation of fuel in the combustion chamber, an additional adjustable damper is provided which will then open to prevent an explosion.
Transport systems
Bottom carriages




Option with two carts, most popular. Outdoor trolley equipped with swivel rubber wheels. The system is used for small and medium loads. It reduces the amount of impurities from the floor in the chamber. The outer cart is painted with wet paint, the trolley is moved inside the trolley. Internal trolley delivered in frame form with high temperature bearings on turned wheels, not painted ready for welding superstructure



Top tracks


Option with two rails with cross section 70x70x4 galvanized. The system is used for medium to high loads on large lines. This solution allows one-time suspension of the element on the line, and then only its movement, it is quick to operate, however, requires the extension of the line by the cross-cutting system and discharge stations.
Rails in the floor




Single cart option, used with very high loads of the order of several tonnes. The cart is equipped with cast cast iron wheels on sliding bearings. Prevents twisting, the carriage goes backwards and forwards only. This option reduces the total height of the furnace by 100mm compared to others. Trolley supplied in the form of a frame with wheels. No superstructure, no painted ready for welding.
Industry 4.0
Rozwiązania pozwalające na tworzenie własnych rozbudowanych systemów
Programowalne wyjścia
Rozwiązanie pozwala na programowanie wyjść przekaźnikowych w danych krokach, w oparciu o temperaturę, czas.

Pozwala na dołożenie np. sterowalnej pompy próżniowej do procesu produkcji elementów z włókien węglowych, w oparciu o osiągnięcie danej temperatury, krzywe grzania / chłodzenia etc.
Komunikacja RS485 ModBus
Praktycznie każde urządzenie romer jest budowane standardowo w oparciu o mikrokontroler, może być przez to w pełni sterowalne z zewnątrz przez urządzenia nadrzędne. Może pracować w trybie Master / Slave.
Po podłączeniu go do sieci, można na bieżąco monitorować jego stan, zużycie, temperatury etc. dostarczając dane do wewnętrznych systemów klienta np. CRM / ERP.
Systemy transportowe
Wózki dolne




Opcja z dwoma wózkami, najbardziej popularna. Wózek zewnętrzy wyposażony w skrętne koła gumowe. System stosowany jest przy małych i średnich obciążeniach. Wpływa na obniżenie zawartości zanieczyszczeń z posadzki w komorze. Wózek zewnętrzny malowany jest farbą mokrą, na tym wózku przemieszczany jest wózek wewnętrzny. Wózek wewnętrzny dostarczany w formie ramki z łożyskami wysokotemperaturowymi na kołach toczonych, nie malowany gotowy do spawania nadbudowy



Tory górne




Opcja z dwoma szynami o przekroju 70x70x4 ocynkowanymi. System stosowany jest przy średnich i dużych obciążeniach w dużych liniach. To rozwiązanie, pozwala na jednorazowe podwieszenie elementu na linii, i następnie jedynie jego przesuwanie, jest szybkie w obsłudze, wymaga jednak rozbudowy linii o system poprzecznego trawersu oraz stanowiska rozładowcze.
Szyny w podłodze




Opcja z jednym wózkiem, stosowana przy bardzo dużych obciążeniach rzędu kilku ton. Wózek wyposażony jest w odlewane koła żeliwne na łożyskach ślizgowych. Uniemożliwia skręcanie, wózek jeździ wyłącznie w tył i na przód. Ta opcja powoduje obniżenie całkowitej wysokości pieca o 100mm w porównaniu z innymi. Wózek dostarczany w formie ramki z kołami. bez nadbudowy, nie malowany gotowy do spawania.