Thick insulation 240-300mm

Modular design of components


Explosion venting latches

Low thermal interia
Electric heating panels

Forced air circulation with both walls and floor

Automatic controls
| | | | | | | |
| --- | --- | --- | --- | --- | --- | --- |
| Model | Worksize dimensions | External dimensions | Fans amount | Heating power | Nominal voltage | Electric power |
| SLS-15O | W1200 H1800 D1600 | W1720 H2710 D1900 | 1 pcs. | 15kW | 380V | 16,1kW |
| SLS-30O | W1200 H1800 D3000 | W1720 H2710 D3300 | 1 pcs. | 30kW | 380V | 31,1kW |
| SLS-45O | W1200 H1800 D4000 | W1720 H2710 D4300 | 2 pcs. | 45kW | 380V | 47,2kW |
| SLS-60O | W1200 H1800 D6000 | W1720 H2710 D6300 | 2 pcs. | 60kW | 380V | 62,2kW |
| SLS-90O | W1200 H1800 D10000 | W1720 H2710 D10300 | 3 pcs. | 90kW | 380V | 93,3kW |
| SLS-140O | W1500 H2500 D6000 | W1720 H2710 D6300 | 3 pcs. | 140kW | 380V | 143,3kW |
| SLS-160O | W2300 H2500 D10000 | W1720 H2710 D10300 | 5 pcs. | 160kW | 380V | 165,5kW |
Fotogallerij
Opties
Comodidad de uso gracias a la cual el trabajo se vuelve agradable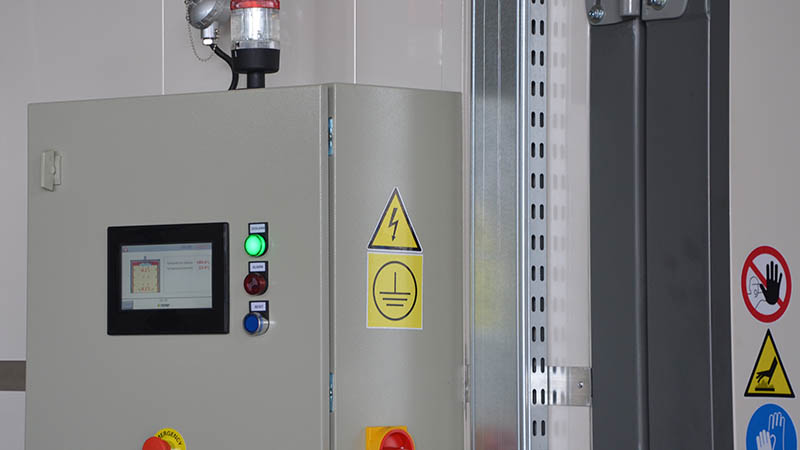 Panel táctil de 7 "
El gran panel táctil a color tiene un aspecto estético y es cómodo e intuitivo de usar. Establecerá todos los parámetros importantes en él.
Memoria de 20 programas con 10 eventos
Es posible guardar hasta 20 programas y activar hasta 10 eventos consecutivos de tiempo-temperatura dispuestos en la curva de calefacción.
Esto es especialmente necesario para procesos más exigentes.
Información sobre consumo eléctrico
El consumo se calcula en función de la configuración del quemador. Esta función le permitirá estimar los costos del ciclo, planificar el consumo y verificar el personal.
Tweekanaals USB-cyclusparameterrecorder
Elke oven is uitgerust met een logger die alle ontstekingsparameters, inclusief twee temperatuurkanalen, zoals in een vliegtuigzwarte doos, registreert op een USB-stick.

Het systeem maakt ook de analyse mogelijk van maandelijkse / dagelijkse overzichten, inclusief mediaconsumptie en prestaties. Elke verwarming start, deur open, grap om te spelen, een paar jaar terug.

aangebodengeen enkele producent. Scherts voor systeem heeft een kraswagen ontwikkeld door onze ontwikkelaars.




Novedad
Nieuwigheid

Gaat automatisch om 6 uur 's ochtends de kachel aan
Hoe vaak ben je na uren wachten op het einde van de cyclus gebleven? als je al lang een spuiterij hebt, weet je wat er aan de hand is,

Met onze oplossing laat u de onverbrande cyclus aan het einde van uw dienst in de oven en eindigt deze automatisch wanneer u de volgende ochtend aan het werk gaat.


Ontwikkeld door professionals, voor professionals
Automatische rookafzuiging
De haard kan zo worden geprogrammeerd dat deze enkele minuten voor het einde van het koken opengaat om de kamer te roken.
Het kan op afstand worden bediend vanaf het paneel, het is niet nodig om het mechanisch te doen zoals bij de meeste constructies.
Minuut om de voorspelling te voltooien
De cyclus is begonnen, hoe lang zal hij eindigen? Door de verwarmingsdynamiek te berekenen, berekenen we deze en laten we op het scherm zien hoe lang het duurt.
Zelfvergrendelende deur
Om het te openen, trekt u gewoon aan de deur. Het slot heeft een instelbare deurdruk, om het te sluiten, drukt u erop, het slot vangt de deur op en trekt deze automatisch terug.
warmtekapoptie
Om het effect van het verwarmen van de gang bij het openen van de deur te minimaliseren, is er een afzuigkap boven de deur geïnstalleerd om een deel van de warmte naar andere plaatsen af te voeren.
Aanvullende opties
CNC Controls
ROMER's Ovens with CNC includes microprocessor system of PLC and HMI systems
connected to the furnace control mechanisms. Control software allows saving powder
curing settings, drying programs with ventilation and heating programs under the curve
(up to 10 events). Implemented Smart Heat ™ system with built-in flash memory stores
data and controls the furnace heating curve, increasing the stability of the set
temperature, the system implemented advanced Proportional Integral Derivative
protocol. Intelligent controller indicates an error when opening the door, overheating
of the furnace, etc.

Automatic ventilation
Automatic ventilation is the system of fans and motors managed by intelligent
controllers extracing smoke from the chamber. Automatic ventilation is an additional
ventilation duct fan that forces air exchange. The system is used when the chamber
fumes needs to be extracted out of the furnace during the curing process. Ventilation is
controlled by entering the following parameters - length of ventilation, aeration
interval. The system every set period of time for a set number of seconds opens ducts
and exchange the air.
System ThPID

Unique systems to ensure the highest quality of firing

System ThPID



What is ThPID?

ThPID was created to offset the effect of inertia called hysteresis.
The standard solution is based on a circuit that on / off heats with constant power.
ThPID is a system in which, by adjusting the voltage at the setpoint temperature, the heating power that is currently needed is selected - minimizing the effect of temperature fluctuations.
The ThPID system further allows the heating power of the furnace to be cut to a specified percentage, for example in the absence of power at the moment.



ROMER

ThPID (voltage regulation)

Different

Without ThPID (on / off)
System MTS

Unique systems to ensure the highest quality of burning




System MTS




What is MTS system?

The MTS is designed to provide realistic reading of the temperature of the oven.
The standard measurement is based on a temperature measurement which is often wrong.
MTS is a system of multiple sensors localized in the extreme places of the chamber.



The polymerization of the paint at 180 degrees Celsius
ROMER

MTS (Two or more sensors)

Inny

Bez MTS (One sensor)
iCure recorder
Meet ROMER iCure


ROMER iCure is a computer program that allows full control of employees even a few years back - allows you to play any of the cycles from any day. iCure records each cycle individually, all inputs and outputs, all process parameters.


The recording capacity is practically endless, it is possible to preserve the history of all cycles since the purchase of the furnace..




Monthly Performance Reports
You no longer have to wonder how much oil or gas is consuming your furnace, nothing will escape your mind.

iCure allows you to view the amount of burns, consumption and regularity of burns from any time period

The system checks if the details have been kept at a suitable temperature for a period of time, if the cycle is interrupted, it is visible in the progress bar.

You will always know how effective is your powder coating plant.

Foto's


Z nami możesz czuć się bezpiecznie
Zamknięcia przeciwwybuchowe
Montaż zamka umożliwia otworzenie pieca od środka, w razie gdyby pracownik został zamknięty w komorze. Takie rozwiazanie poprawia szczelnosc drzwi, komfort pracy i wpisuje sie w normy piecy EX - w razie eksplozji, drzwi otworzą się samoczynnie.
Autodiagnoza
System autodiagnozy, analizuje poprawne działanie każdego z podzespołów zapobiegając awariom.
Awaryjne wznowienie cyklu po utracie zasilania
Zabrakło Ci prądu. Co się dzieje jeśli nie posiadasz tego systemu, i nie pamiętasz na jakim etapie był cykl?
Cały wsad do poprawy.
Analiza poprawności podłączeń
Jeśli poluzuje Ci się któraś wtyczka , czujniki zostaną zamienione miejscami, możesz być pewny, że nie będziesz musiał nad tym myśleć.
Przeciwwybuchowa klapa rozprężająca
W razie detonacji paliwa w komorze spalania, przewidziana została dodatkowa regulowana klapa która wówczas się otworzy zapobiegając wybuchowi.
Czujnik przegrzania
Dodatkowy czujnik aktywuje się po przekroczeniu górnej granicznej temperatury rozłączając elementy grzejne zapobiegając uszkodzeniu elementów.
Zabezpieczenie kierunków obrotu
W razie zamiany kolejności faz na zasilaniu, posiadamy zabezpieczenie które to weryfikuje.
System MTS
Wózki dolne




Opcja z dwoma wózkami, najbardziej popularna. Wózek zewnętrzy wyposażony w skrętne koła gumowe. System stosowany jest przy małych i średnich obciążeniach. Wpływa na obniżenie zawartości zanieczyszczeń z posadzki w komorze. Wózek zewnętrzny malowany jest farbą mokrą, na tym wózku przemieszczany jest wózek wewnętrzny. Wózek wewnętrzny dostarczany w formie ramki z łożyskami wysokotemperaturowymi na kołach toczonych, nie malowany gotowy do spawania nadbudowy



Tory górne




Opcja z dwoma szynami o przekroju 70x70x4 ocynkowanymi. System stosowany jest przy średnich i dużych obciążeniach w dużych liniach. To rozwiązanie, pozwala na jednorazowe podwieszenie elementu na linii, i następnie jedynie jego przesuwanie, jest szybkie w obsłudze, wymaga jednak rozbudowy linii o system poprzecznego trawersu oraz stanowiska rozładowcze.
Szyny w podłodze




Opcja z jednym wózkiem, stosowana przy bardzo dużych obciążeniach rzędu kilku ton. Wózek wyposażony jest w odlewane koła żeliwne na łożyskach ślizgowych. Uniemożliwia skręcanie, wózek jeździ wyłącznie w tył i na przód. Ta opcja powoduje obniżenie całkowitej wysokości pieca o 100mm w porównaniu z innymi. Wózek dostarczany w formie ramki z kołami. bez nadbudowy, nie malowany gotowy do spawania.